Since I am not starting any large projects for another month or so, I figured I would submit an oldy, but still one of my favorites. This will also give you an idea of what the boys room will look like. Although the theme will be a little less girly (We are thinking animals and tools and trucks)
I also saw a chance to support Habitat for Humanity and win some prizes from the following blog: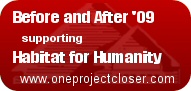 Here is my submission.
We recently remodeled many areas in our 1950s Cape. When we bought the house, the structure was solid, but it was in desperate need of updating. There was 1 owner who lived there for 50 years; so you can imagine the style that we saw (paneling, linoleum, lime green paint, etc...). But it also had great features like hardwood floors throughout and plaster walls (great for durability, not for patching). We have owned it about 2.5 years and have remodeled about 90% including:
Deck (Tore down dilapidated 8x10 and built 13x20)
Upstairs Bedroom (what I am submitting)
Kitchen (including tearing down walls, flooring, cabinets, backsplash, window and incorporating 3-season porch floorspace)
Flooring (tile in the kitchen and heated tile in the bathroom)
Pantry (updated)
3-Season porch refinished into part of the house (new insulation, windows and siding).

First off - We are still happy with this remodel after months of completion. My daughter loves her new bedroom which is the greatest accomplishment. People that look at it love how we used the otherwise wasted space behind the knee walls. But we are now expecting our 2nd child in October - a boy. My wife has already started talking about finishing the 2nd bedroom upstairs. My back still hurts from working in the the cave and bed area :)
My daughter was turning 1 year old, and her downstairs room was getting a little crowded with all of her toys, so we decided to finally make the outdated spare bedroom into her living space. We then were able to convert her old bedroom into the much needed playroom. The house's footprint is 27x24, so our first floor is a measly 648 sq. ft.
Before:
There was 4 layers of wallpaper on unfinished drywall. 1 electrical outlet in the room (1 15 amp circuit for entire upstairs). Doors in the knee walls for storage.
We originally tried to remove the wallpaper, but the paper on the sheet rock came with it because it was unfinished (the seams weren't even taped).
We tore everything down to the studs and went from there. We tore out all old insulation and electrical and even the old closet.
Collar Ties:
I moved the collar ties up 14". They are structural so I had to reinforce them. There was about 8 fasteners holding the 1x6 collar ties previously and I upgraded them to Simpson Strong-Tie with 10 fasteners per Strong Tie. I also double reinforced with 2x6s with 12 fasteners per 2x6. The 2x6s also acted as a place to attach the furring strips for drywall as well as a place to put in a ceiling fan and lights. I also reframed some of the rafters because they were cracked. Some of the wall studs were notched so I sistered those to have something to attach the drywall to.
Closet - New:
I took an old Wardrobe and built it into the wall to make it a closet which takes up less valuable floor space than the old closet. I found the old wardrobe on Craiglist and modified it by removing the single door, cutting the bottom off of it to make it shorter and building 2 new doors with rail and stiles for the doors to sit against.
This is the original closet that was behind the door.
Now we can put in a crib and built-in bed.
Chest of Drawers/Closet/Cave/Bed:
My wife had the ingenious idea of building a cave, bed and 2 sets of chest of drawers into the knee wall area instead of just a flat wall. She also mentioned that we should build a twin bed into the knee wall as well. And a chest of drawers on each side. But since the knee walls are structural, I had to span them using double 2x6 headers with 2 jack studs on each side.
CAVE
The cave area goes back about 12 feet into the eaves/behind the knee wall. We added 2 lights into the cave. We also put the light switch high enough for my daughter to reach.
BUILT-IN BED
The bed area is 44x80 inches which makes changing sheets on a standard twin (39x75) easier to change. There is also a set of bookshelves at the foot of the bed with a light. Again the switch is within reach of a toddler so she can turn it on and off.1
Electrical:
We updated the electrical to 2008 NEC. This included Tamper Resistant outlets. These are great and easier to use than the plastic inserts or the rotating plugs. They are not cheap for the 20-amp versions though. I added about 7 outlets to the entire room up from the measly 1 outlet. All circuits are 20 amps except for the lights which are 15-amps and on Arc Fault Circuit Breakers as required by 2008's NEC. We put in wired smoke detectors and Carbon Monoxide Detector in the basement as required by more building codes than the one from original construction of the house in 1950.
Window:
Since there is only one wall that had a window, we decided to take out the previous double hung window and put in a a new side-by-side (double) double hung window. This really opened up the space and lets a lot more light in. This required redoing the vinyl siding on the outside of the house as well as reframing the window area.
Floor:
We left the old linoleum floor and put the new bamboo floor in. We used carbonized bamboo in the main area and horizontal bamboo in the cave area. I didn't put a vapor barrier between the linoleum and bamboo because there is one underneath the linoleum already.
We added 2 lights and a fan/light combo into the ceiling. Since the fan is so close to the ceiling, it doesn't provide much circulation.
The only part I didn't do myself was tape, mud and sanding of the drywall. I have done enough DIY projects to know that I hate sanding drywall. That was about 5% of the whole project. I did hang the drywall myself.
I tried to find pictures with the same point of reference. I think the improvement was worth the "Sweat Equity" :)